Edmonton Infill: What is it and Why Do We Need it?
Posted by Gerard Hagan on Friday, February 11, 2022 at 9:04 AM
By Gerard Hagan / February 11, 2022
2 Comments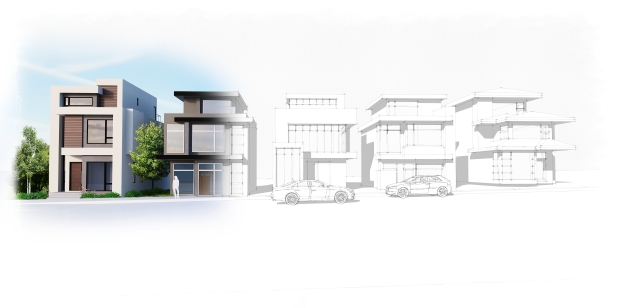 The urban environment is constantly changing, affecting the lifestyle of all residents of Edmonton. One of the major projects undertaken by the City is the Edmonton infill Roadmap which has been in effect since 2010. Since then, considerable progress has been made. The project is expected to conclude in 2022, and we figure this is a better time than ever to remind Edmontonians about how far the project has come! In today's post, you'll learn about the most important things you should know about the project, including how the city and the owners and buyers of Edmonton homes are benefiting from it.
Understanding the Edmonton Infill Concept
While it is applied in various spheres of life and scientific fields, the concept of infill is most commonly used in residential development and construction. It is the filling of empty lots within existing neighbourhoods. That is why it is often formally referred to as urban infill. The term is often used to describe the building of single-family homes.
However, in the case of Edmonton, the concept is much broader and includes a wide range of structures.
It's important to note that the infill concept has been around for quite some time in urban construction and development. However, its importance has grown significantly in recent years in line with the broader concept of sustainable development. This has led to its adoption in many cities of various sizes, including ours.
Details of the Edmonton Infill
The City announced the infill in 2009 and launched a complete plan for the execution of the project in 2010. It involves the building of new housing in established neighbourhoods. The City defines established neighbourhoods as predominantly residential, mostly planned and in existence before 1995.
They are generally within the area defined by Anthony Henday Drive.
Types of infill housing:
Semi-detached and detached houses
Rowhouses
Apartments
Duplexes
Garage suites
Residential suites
Other residential buildings and ones with mixed-use can also be built. As the list suggests, it is perfectly possible to find many different Edmonton homes constructed as part of the infill project.
Next, let's talk about the specifics.
Initially, the minimum allowed width of a lot for building a single-detached house was 39.37 feet (12 meters). But it changed to 25 feet (7.6 meters) in 2015 to provide further flexibility to developers.
This has naturally led to an increase in the number of smaller homes. However, this is actually in line with the local housing market's demand, given that the average household size in the city is 2.5 people.
(Speaking of the housing market, take a look at this post next to read about determining the market value of Edmonton homes)
The Edmonton infill project summary for 2017 reveals that the City had completed 15 of the 23 actions set out in the initial plan while the remaining eight are in progress.
Now, in 2022, the Roadmap is set to complete later this year, with even more progress being made in the meantime.
How Infill Benefits Edmonton
The project is good for the city and everyone living in it in several ways. Let's take a closer look at them.
Protecting the natural environment and keeping taxes low
The current forecast suggests that the city's population will grow by 170,000 people by 2025. As of 2021, "the City of Edmonton's City Plan predicts the city alone will reach a population of two million by 2040, outpacing other projections."
This poses the need for thousands of new Edmonton homes.
Many of these will be built in established neighbourhoods rather than new ones thanks to the infill project. This will help preserve the natural environment around the city, which is valuable to all citizens in more ways than one.
Additionally, infill will minimize the need for new infrastructure projects and the establishment of more police and fire stations and other essential facilities. As a result, the taxes for local residents will not increase sharply. This is a direct monetary benefit for everyone.
Reviving established neighbourhoods
This is another one of the major purposes of the Edmonton infill.
In the past 40 years, the population of these neighbourhoods has declined by 73,000 people. The newly built homes will attract more buyers to these communities. Existing ones will prosper, and new ones will come in. As the population increases, the demand for the goods and services of local businesses will naturally rise.
(Are you planning to make some changes to your home any time soon? Visit this post next to read about some budget-friendly home improvement ideas)
Giving Edmonton home buyers quicker access to more amenities
If you buy a home in an established neighbourhood, you will be able to reach the downtown area and most other major attractions in the city much faster, no matter what mode of transportation you use.
The shorter distances to work and school are significant advantages for every household. Besides, as your neighbourhood revives, you will be able to do a lot more things there. Imagine your new house or apartment being just a walking distance away from cafes, shops and restaurants.
Many established neighbourhoods also have beautiful landscaping and well-designed and maintained parks and children's playgrounds.
Overall, the Edmonton infill project presents excellent new opportunities for the city and its existing and new residents. It has achieved remarkable progress to date. There are over 8,400 new Edmonton homes built as part of it. You can easily find out if any of them are available for sale.
(There are also several benefits to buying a home in the winter, which makes now a good time to start your search! Read about what makes the timing right in this post)
Click here to use our comprehensive Edmonton real estate search tool to find what you're looking for.
As always, you can also contact us directly so we can help you find your dream home as soon as possible.
Did you learn a lot from this post? Here are three more to read next:
This article was first published in 2017, but it was updated in 2022 just for you.