The Backyard Office
Posted by Gerard Hagan on Tuesday, October 27, 2020 at 5:13 PM
By Gerard Hagan / October 27, 2020
Comment
Have you heard? The backyard office is the new way to go about your workday. Sitting in an office all day, many of us dream about grabbing our work and heading outside. Especially when the spring and summer months roll around. Since working from home has become far more prevalent, why not do just that? While adapting to the working from home life, people have started moving their offices outside. There are so many benefits to moving your office outside. You can get more natural light, fresh air, and privacy. Transitioning to working from home has been quite a challenge for many. It's become a lot harder to balance work and life. It's hard to escape your work. Some people don't have much additional space indoors to create an at home office space. They end up with their work all over the kitchen table or counter making it much harder to escape when it's time to clock out. It also increases the risk of losing something important, losing track of things, accidents, or simply feeling trapped by it. Using your outdoor space to work and contain your work-life can be a great solution and help you get back some of the important life part of your day. So how to you get started?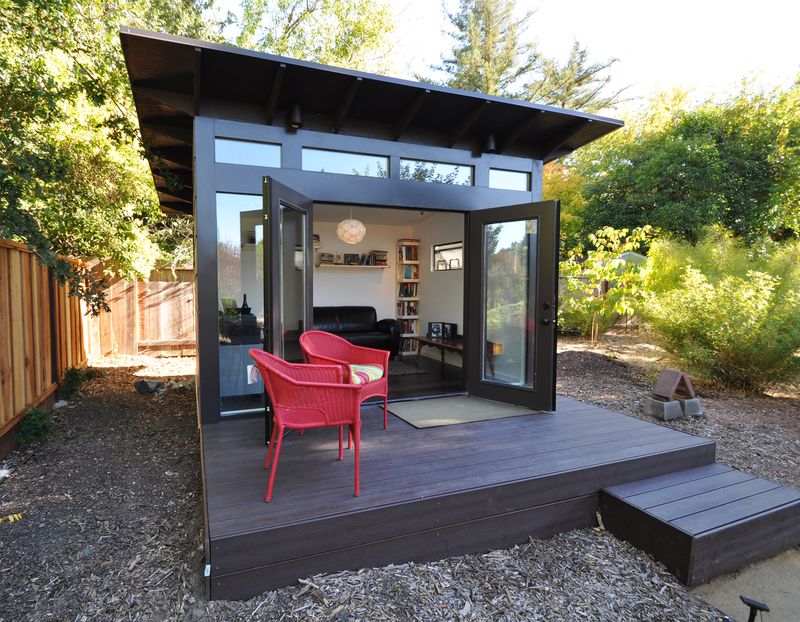 Transforming an existing shed or building one is a great place to start. It doesn't have to be fancy but it can be if you want. It's your space and how it's designed is completely up to you. You could easily make this into a fun DYI weekend project. Clean out the existing shed, paint, decorate, and set up your office exactly the way you like it. It's a bit more complicated if you have to build or choose to have one built. Here are four steps get started creating your backyard office:
Step 1. Get a permit
You may not need a permit. If you decide you want to build a structure, it's important to look into whether or not you will need a permit to build one. This depends on the size of the structure and where you live. Some smaller structures may not require a permit.
Step 2. Find a spot
Figure out where you want to put it. Choose somewhere that provides you with the things you are looking for like how much natural light that spot gets. Keep in mind the weather. Make sure the spot you pick will not cause your office to flood. Don't forget you will need to have access to the internet and electricity. You'll need to consider running electrical wires when choosing a spot and incorporate that into your building plans.
3. What's your budget?
Do you intend to build your shed from scratch? Or are you looking at something prefabricated? Each option will impact your budget differently. A prefabricated backyard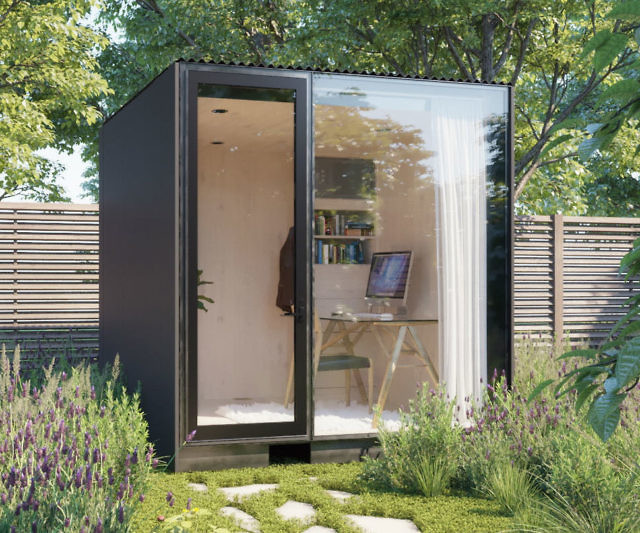 office could be very convenient and potentially faster than building one from scratch. However, they can also be more expensive. Shop around and choose the option that works best for you. If you already have a shed, even better!
4. Build and decorate
Make sure you create a space that you can work in. Something comfortable clean and bright. A space that suits your needs. You can spruce it up with cozy furniture and decor. Make sure it's easy to get to and that it's somewhere you will want to go. You can create a path leading to your outdoor office from you home and even design landscaping around the path.
There you have it. No more need to sprawl your work across the kitchen counter and try to figure out where to put it when it's dinnertime. No more worrying about the kids spilling juice on your important documents. No more work cluttering your home and mind. At the end of the day, you slip out of your new work oasis, turn out the lights as you leave it behind you and embark on quite possibly the shortest commute you every had.