Pet Tips for Buyers and Sellers: The Unseen Player in the Real Estate Game
Posted by Gerard Hagan on Wednesday, June 7, 2023 at 1:59:12 PM
By Gerard Hagan / June 7, 2023
Comment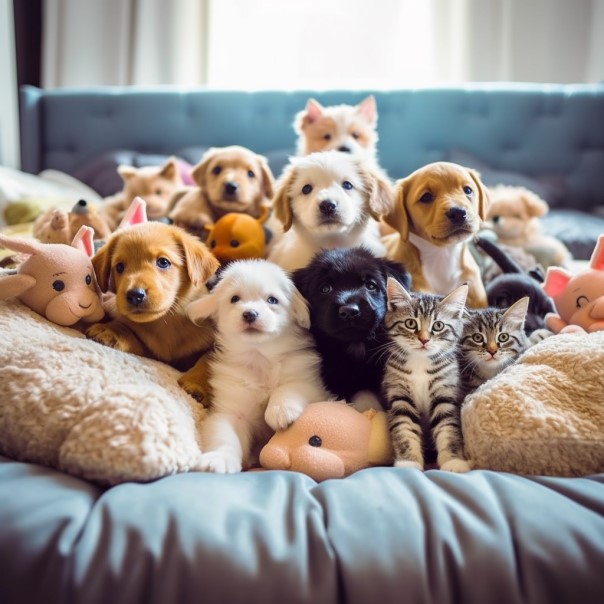 Pets have a more prominent role in our lives than ever before. Indeed, a study by the National Association of REALTORS® reported that 70% of households have a pet, but only 40% have a child under 18. Notably, 20% of all buyers even factored their pets into their real estate buying decision! As someone who has experienced pet-induced hiccups firsthand, I'd like to share some pet tips for both buyers and sellers in the real estate market.
If You're a Seller with Pets
When selling your home, remember: perception is reality. Your home should be a clean, distraction-free canvas for potential buyers to paint their future. Although we adore our pets, they might not be the ideal "welcoming committee" for all buyers.
One top tip is to arrange for your pets to be elsewhere during showings, or at least securely kenneled. This measure helps avoid any unexpected reactions from either pets or potential buyers.
Another critical consideration is smell. You've probably experienced "nose blindness" to your pet's scent. Don't let this be the first impression for a buyer. Make sure you've thoroughly cleaned and deodorized all pet areas to remove any lingering odors.
Lastly, remember to tidy up pet accessories. A well-used pet bed or a frayed toy can distract potential buyers. Keep in mind the ultimate goal: to help the buyer envision themselves in your home.
If You're a Buyer with Pets
Pets aren't just pets – they're part of the family. And finding the perfect home isn't just about your preferences, but your pet's too. Obvious factors include yard space, fencing, and proximity to dog parks. But have you considered local regulations?
Municipal guidelines may dictate aspects like licensing, noise bylaws, and pet limits. If you're considering a condo, the condominium corporation could have specific rules concerning pets. Be sure to investigate these details before making your decision to prevent future headaches.
From a REALTOR®'s Perspective
REALTORS® have a challenging task: balancing their clients' interests and providing a frank assessment. Often, this includes broaching sensitive topics like pet-related issues that could affect the property's appeal.
Moreover, REALTORS® must adhere to provincial rules regarding pets, like warning other agents about pets on the premises or discussing potential allergy issues. Transparency is key for a smooth real estate transaction.
And for my fellow REALTORS®, a quick piece of advice: before opening the door for a showing, give the door a slight crack first. It's a simple measure to avoid any unwelcome surprises. Remember, while some surprises can be delightful, an unexpected pet encounter may not be.
In conclusion, whether you're a seller or buyer (or a REALTOR®!), understanding and considering pets' role in the real estate process can lead to smoother transactions and happier outcomes. As our furry friends increasingly become part of our decision-making, it's crucial to consider their impact and accommodate their needs as we navigate the real estate world.
Deeper Dive for Sellers with Pets
As a seller, it's crucial to put your best foot forward in every aspect, and that includes how you handle the presence of your pets. It's essential to consider buyers who might have allergies. Though your pet may not be at home during the viewing, pet hair and dander can still linger. Deep cleaning, including carpets and upholstery, can go a long way in ensuring your home doesn't trigger an allergic reaction in a potential buyer.
If you have outdoor pets, it's essential to clean up your yard, too. Any pet waste or damages caused by your pets, such as holes dug in the yard, should be addressed before showing your home.
Always put away pet paraphernalia like food dishes, toys, and litter boxes. These items can be a turn-off for some buyers, even the pet-loving ones. The goal is to create a neutral space that appeals to everyone.
Deeper Dive for Buyers with Pets
As a buyer, you need to keep your pet's needs at the forefront of your decision-making process. For instance, does your large dog require a spacious yard to run around, or does your cat need plenty of indoor spaces to explore?
Beyond physical space, you should also consider the neighborhood's pet-friendliness. Are there many other pet owners in the area? Are there nearby pet-friendly amenities such as parks, trails, or pet stores? Do the local vets have good reviews?
A point that is often overlooked when purchasing a property, particularly a condo, is the pet policy. Make sure you read the fine print and understand any limitations or restrictions that might exist. Also, consider if there might be a possibility of these rules changing in the future. This could be a deal-breaker if you're planning to add more pets to your family.
Final Thoughts for REALTORS®
As a REALTOR®, remember to take your client's pet-related needs seriously. It's not just about selling or buying a property; it's about finding a home that suits the entire family, pets included. Be proactive and ask questions about pet-related topics. This will show your clients that you genuinely care about their needs and are knowledgeable about all aspects of the real estate process.
Finally, keep in mind that people have strong emotional connections with their pets. Always approach pet-related issues with sensitivity and understanding.
In the end, successfully navigating the real estate market with pets in mind involves careful consideration, preparation, and a dash of empathy. By keeping these tips in mind, you can help ensure a smooth, successful transaction that leaves both human and furry clients satisfied.
DID YOU LEARN A LOT IN THIS POST?
Here are two more to read next: