The Only Moving Checklist You Need in Edmonton
Posted by Gerard Hagan on Friday, December 18, 2020 at 8:38 AM
By Gerard Hagan / December 18, 2020
Comment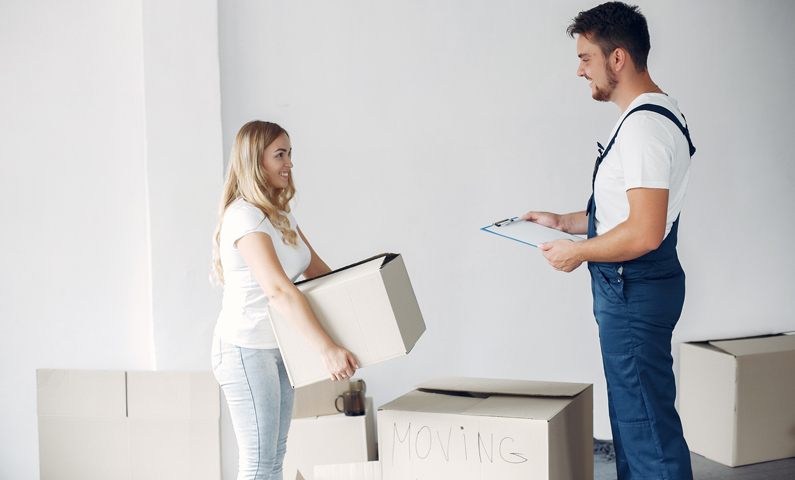 Moving is a lot of work. If you've already found your new home in Edmonton, then you're entering a busy time as you prepare for your move.
We've got you covered. Welcome to the only moving checklist you need for a smooth and low-stress move.
We've organized the process into week-by-week steps to make sure you stay on task.
Moving Checklist
Here's our moving checklist of everything that you must do, starting eight weeks before your moving date.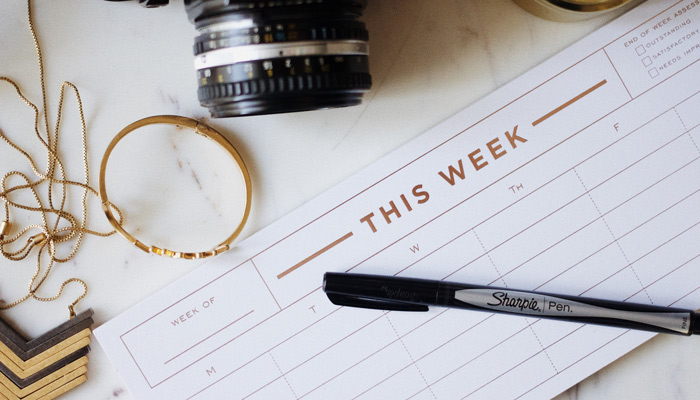 Source: Unsplash by Jazmin Quaynor
6 to 8 Weeks Prior


Stroll through the house and make lists of:

What to keep
What to donate
What to sell

Make a budget for your estimated moving costs

4 Weeks Prior


Print your moving checklist
Find and book your movers
Purchase packing supplies
Start packing
Purchase insurance
Make a moving plan for your pets

2 Weeks Prior


Check furniture sizes to make sure that the pieces will fit in your new place
If your current home and/or new place needs cleaning before departing/arriving, book a service
Will you need time off work? Submit a request
Inform any contacts who need to know that you're moving
Make arrangements for utility connections at the new home
Cut down on new food purchases and start using or discarding the food you currently have
Gather your important moving paperwork into an organized folder

1 Week Prior


Finish your packing other than items you'll need during your last week before the move
Prepare a personal bag for the day of the move

The Day Before Moving Day


Confirm date and time of move with your movers
Pick up the keys to your new home or arrange to meet landlord/agent there on moving day
Disassemble furniture and unplug/disconnect appliances

Moving Day


Greet the movers and help them get started
Walk through your current home to make sure nothing was left behind
Supervise the unloading at your new place
Confirm the movers are done with their work, then pay and thank them
Clean the floors and surfaces before arranging furniture
Unpack large items and set up your furniture
Introduce yourself to your nearest neighbors
Enjoy the feeling of being in a new home!
What Are the Steps to Moving House?
Let's get into all the tasks, big and small, for your move.
6 to 8 Weeks Prior to Your Move
Take a stroll through your home. Open every cabinet, look behind the couch, and so on. Have your notebook and pen in hand — it's time to make some lists.
Decide What to Keep, Donate, Sell, and Discard
If you don't tackle this task early, it'll drive you crazy at the last minute. Most people are surprised to learn how much stuff they have.
Make lists that divide up your possessions into groups:
Items you'll take to your new address.
Items to sell – For the few items worth the hassle of selling, Facebook Marketplace and Craigslist are your best bets.
Items to dispose of — Look into recycling and disposal rules for electronics and hazardous liquids.
Items to donate -– This is a great time to send some unwanted, lightly used items to a second-hand store.
These groups will become to-do lists, as you tackle packing up and getting rid of your items in the weeks to come.
Create a Budget
Create a budget to form a rough idea of your total moving costs.
Consider all the costs associated with:
Hiring movers
Cleaning your current and/or new house
New furniture, appliances, and other items for the new home
Pet care
Utility connections and start-up fees
Of course, these expenses only relate to the move itself. If you're still working through your real estate transactions, review our guides for buyers and sellers.
4 Weeks Prior to Your Move
Find a Moving Company
Unless you're planning a DIY move, get a moving company.
There are lots of moving companies in Alberta. Browse some online reviews to see who you'll trust handling your possessions.
Check out a list of the best movers in Alberta to find a larger, well-known company.
Get a written estimate and ensure you understand the terms and charges.
The mover should visit your home for the estimate; a phone call really doesn't cut it. Be aware that movers aren't allowed to charge you more than 110 percent of the estimate they originally provided.
Give the movers a detailed inventory of what you'll need moved. That way, they can provide an accurate quote.
The average cost of moving is around $200-700 for a one-bedroom apartment or $700-$1,300 for a three-bedroom home.
Your base cost will depend on hours, the number of workers needed, fuel, and travel time. Rates will be higher on weekends and holidays.
Thinking about a DIY move? You'll likely need a moving truck or van, and maybe a storage container.
You can rent a vehicle from a car rental company or a moving company. With a standard Class 5 Driver's License in Alberta, you can operate any two-axle vehicle and tow a trailer.
Your vehicle provider may also rent you other items needed for a DIY move, such as:
Trollies
Moving Blankets
Straps and Ropes
Using these properly will help you move safely and efficiently.
Purchase Packing Supplies
Pick up some packing paper, tape, boxes, and bubble wrap. Your moving company may be able to supply you with essential packing items, or you can shop at an office supply or home improvement store.
Pack Your Belongings
It's time to pack. Start with things you won't need in the next few weeks. We're talking about seasonal clothing, special occasion flatware, and the odds and ends lining the back of your closet.
Pack your valuables separately. These might include artwork, jewelry, and things with sentimental value. Photograph them before packing them up. That way, their current condition is documented in case any damage occurs during moving.
Check out some useful packing tips for valuables and fragile items. It's wise to carry some of these with you personally rather than send them with the movers.
Mark boxes that contain fragile items and let the movers know to handle them carefully.
There are some items that movers won't transport, due to law or standard policy. These rules can be stricter for interstate travel. Prohibited items include:
Motor oil
Gasoline
Paints
Fireworks
Poisons, such as weed killer
Car batteries
Plan to move these items yourself or safely dispose of them ahead of time. Check with your mover to see what their prohibited items checklist includes. Get the basics here.
Maintain Insurance Coverage
Consider your insurance needs as they change with your move – home, contents, and car.
Contact your insurers to provide them with your new address.
Discuss any new insurance needs, such as those that may have shifted due to your new location. These could include removing or adding parts of your policy based on regional concerns such as security or natural disasters.
Make Moving Plans for Pets
You might need a plan for your pets if it won't work to have them with you during the move.
Pet sitting websites like Care and Rover can connect you to a local sitter. Those platforms are useful when you just need a few hours of care.
If you're new to the area, find a new vet. It's best to do this before you need veterinary care. That way, you're ready for an emergency.
2 Weeks Prior to Your Move
Make Sure Your Furniture Fits in Your New Home
Call your movers and confirm your plans.
Determine who will dismantle and reassemble your furniture — you or the movers. See what level of service your movers cover.
If you have furniture assembly needs that your movers won't cover, ask them for a referral. Some handymen/women specialize in furniture assembly for Ikea furniture or other niche assembly needs.
Consider whether you'll need any temporary or permanent storage.
Can your largest items fit inside your new home? Make sure to:
Measure the dimensions of any large or oddly-shaped items, such as couches or dressers.
Measure the tight spaces, such as doorways and stairways.
Chat with your movers about which items will be most difficult to transport.
Sweep, Scrub, Mop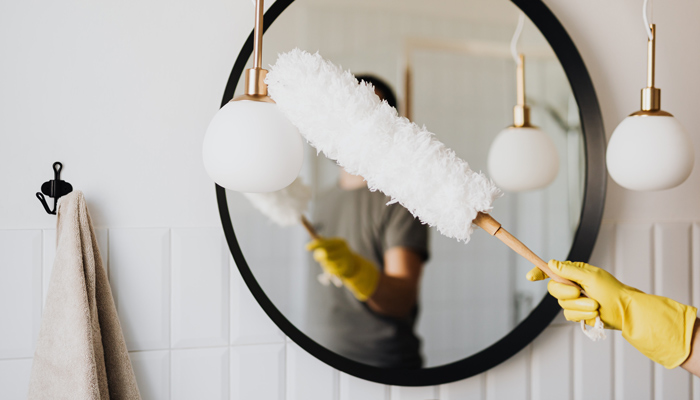 Source: Pexels by Karolina Grabowska
Get started on some deep cleaning in your current home.
Discuss your maintenance obligations with the landlord or real estate agent. Plan for professional cleaning if needed.
Notify Contacts of Your Move
Update your address with the government agencies that serve you. Then change your listed address with your:
Driver's license and vehicle registration
Family and friends
Mail subscriptions
Bank
Employer
Electoral District
Then set up post office mail forwarding through Canada Post.
Arrange Utility Service and Installations
Arrange an end of service with the utility providers for your current address. Confirm your obligations for returning any hardware.
Schedule utility connections for your new residence. Be sure to get all major utilities turned on by moving day so that you don't have to spend any time without essential services.
Organize Key Paperwork and Schedule Time off Work
Set up a moving house folder. Use it for all of your important papers like your moving checklist, lease agreement, and movers' contract. Label the folder clearly.
Also, organize all of your important non-moving documents in a safe place. Avoid misplacing anything essential, such as:
Birth certificates
Passports
Financial, legal, and medical records
Will you need time off work to handle moving tasks? Submit your request now, with two weeks' notice.
Use Up Your Perishable Foods
Start working through your frozen and perishable foods. Slow down purchasing new food.
Make a meal plan for the next two weeks. Gather some recipes that can utilize what you already have in your fridge, freezer, and cabinets.
1 Week Prior to Your Move
Finish the Packing Process
You want to have all of the household packing done before the big day. Have everything boxed, with lids sealed.
Don't forget about your laundry. Collect any laundry, dry cleaning, or tailored items that you have out in shops. Get everything cleaned so you aren't moving dirty laundry.
Return library books and any borrowed or rented items. Make sure that any service contracts like landscaping or newspaper delivery have been concluded or transferred.
Prepare one personal bag per family member. In it, stash a change of clothing, toiletries, phone charger, and other items that you'll need during or right before moving.
The Day Before Your Move
Confirm the Day and Time with Your Movers
Time for a day-before check-in with the movers, to confirm your:
Appointment time
Cost and payment method
Mobile phone contact number
Obtain Your New Keys
Collect your new house keys from your landlord or agent. Or make a plan to meet them at your new address on the day of the move.
Confirm with any responsible parties that the new home is clean and ready for your arrival.
Disconnect and Dismantle Appliances and Furniture
Disassemble any remaining furniture. Place brackets, screws, etc. in labeled ziplock bags. Take photos as you dismantle so you have a guide when you reassemble.
Deep clean your appliances and disconnect the ones you're done using. Defrost and clean your freezer. Turn off the hot water.
Moving Day
It's here, at last!
Consult your day-of moving checklist:
In the Old Home
Welcome the movers to their job site and give them a tour. For a DIY move, pick up your truck or van.
Politely observe the movers while they load the truck, keeping an eye out for damage. For a DIY move, carefully start your loading.
Clean up the floors and surfaces as each room is cleared out. Photograph the empty room for proof of good condition.
Take a final walkthrough, making sure nothing is left behind. Lock the doors and windows.
In the New Home
Politely observe and supervise the movers as they unload the truck. Get items moved directly to the rooms where they'll be placed.
Pay, thank, and tip the movers after confirming they've finished.
Clean up floors and surfaces before arranging your furniture.
Keep an eye out for damaged items. If you encounter any, photograph them and contact the movers.
Introduce yourself to your nearest neighbors. No need to delay, do this on day one and start building your new community.
Breathe a sigh of relief and enjoy your new home!
You Can Do This!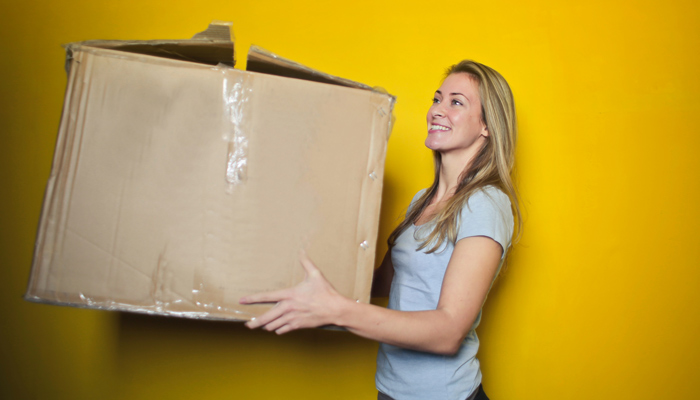 Source: Pexels by Andrea Piacquadio
Moving is a challenge. But, if you stay organized and don't procrastinate, you'll have a smooth transition.
We hope this moving checklist helps. Be sure to peruse our blog for other topics related to your move, like answers to your mortgage questions and what you should know before listing your address on Airbnb.
And if you're still considering your move or real estate transaction, we've got you covered. Best Edmonton Real Estate is the top online hub for home buyers and sellers.
Contact us today to get started with your move.
Featured Image: Freepik by prostooleh