Elevating Outdoor Living: Unlock the Many Advantages of Composite Decking
Posted by Gerard Hagan on Sunday, May 14, 2023 at 4:49:21 PM
By Gerard Hagan / May 14, 2023
Comment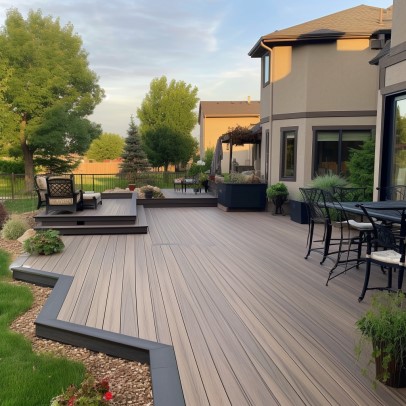 As spring unfolds and summer draws near, it's the perfect time to rethink your outdoor living spaces. Transforming your backyard into a charming, low-maintenance sanctuary for relaxation, entertainment, and memory-making is more achievable than you might think, thanks to the advent of composite decking.
1. Unparalleled Durability
Constructed from an innovative blend of wood fibers and plastic, composite decks are celebrated for their remarkable resilience. They effortlessly resist fading, staining, scratching, and mold - problems that frequently plague traditional wood decks. This durability ensures your outdoor haven remains inviting and pristine, year after year.
2. Effortless Upkeep
Forget about devoting entire weekends to staining, sealing, or painting. Decks crafted from composite materials require only the simplest care. A light cleaning now and then keeps your deck looking fresh, leaving you with more time to enjoy your outdoor retreat.
3. Aesthetic Versatility
Composite decks offer an extensive selection of styles and colors, affording you a world of customization options that can perfectly complement your home and personal style. Whether you're drawn to a traditional wood look or a sleek modern aesthetic, composite decking has you covered. Plus, these decks resist warping and cracking, ensuring a beautiful appearance for years to come.
4. Environmentally Conscious Choice
Often made from recycled materials, composite decks are a greener choice. By choosing composite decking, you're investing in a stylish, durable outdoor space, while also contributing to a more sustainable future.
5. Long-term Cost Efficiency
Though the initial investment for a composite deck may be higher than that of a traditional wood deck, the longevity and low-maintenance nature of composite materials result in fewer repair and upkeep costs over time. When you consider the saved time and money on maintenance, composite decking proves to be a cost-effective choice in the long run.
6. Comfort and Safety
Decks built with composite materials prioritize comfort and safety. They are splinter-free and offer excellent slip resistance, even when wet, making them a safer choice for households with children, pets, or elderly members.
7. Boost to Home Value
An attractive, well-crafted composite deck not only guarantees years of outdoor enjoyment but can also enhance your home's value. Prospective buyers appreciate the durability and low maintenance of these decks, making it a profitable investment if you ever decide to sell.
8. Pest Resistance
Unlike traditional wood, composite decking is resistant to common pests like termites. This gives you peace of mind knowing your beautiful deck isn't just robust against the elements, but also against damaging critters.
9. Weather Resilience
Composite decks hold up impressively well against various weather conditions. Whether it's intense sun, heavy rain, or freezing temperatures, composite materials maintain their integrity and appearance, making them an excellent choice for any climate.
10. Consistent Coloring and Texture
Composite decks offer consistent color and texture throughout each board. This not only contributes to their aesthetic appeal but also means that scratches or damages are less noticeable compared to traditional wood decks.
11. Sound Structure
Composite decking is less likely to split or crack, ensuring the structural soundness of your deck. This gives you the confidence of having a solid, safe structure for your family's outdoor activities.
Opting for composite decking for your outdoor deck is a decision that fuses style, functionality, and sustainability. It's an investment in a future of leisurely barbecues, enchanting starlit gatherings, and serene morning coffees, all within the sanctuary of your own backyard. Elevate your outdoor living with the practical, aesthetically pleasing, and environmentally friendly choice of composite decking.