What to Know About Edmonton Condos for Sale: Condominium Insurance
Posted by Gerard Hagan on Friday, December 11, 2020 at 10:00 PM
By Gerard Hagan / December 11, 2020
Comment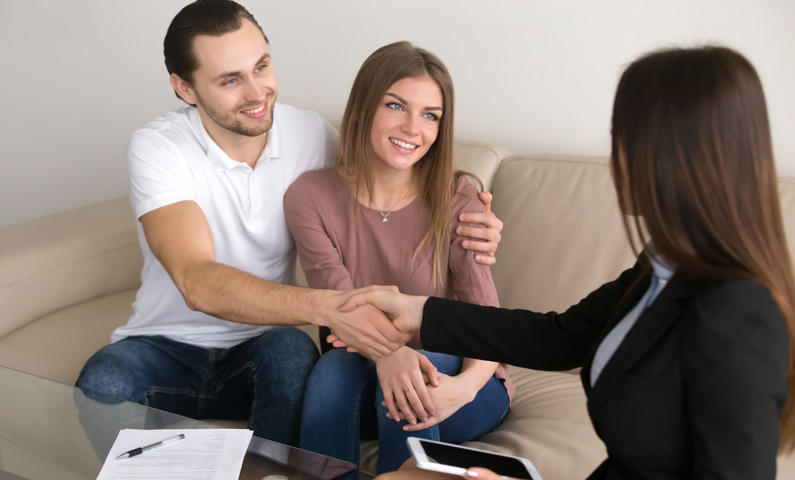 After months spent planning your finances, visiting condos for sale in Edmonton, and talking to real estate agents, you've finally zeroed in on the condominium of your dreams. All you need to do now is purchase insurance to keep your dream home safe.
If you are wondering whether you should spend money insuring your condominium, our answer, as experienced real estate professionals who are members of the REALTOR®S® Association of Edmonton, is yes.

Source: wikimedia.org
Why Should You Purchase Condominium Insurance?
Purchasing individual condominium insurance is not a legal requirement in Edmonton. However, every bank will require you to have it in place, before financing your mortgage. In most cases, there are some minimum coverage requirements.
The bank would want to know if the insurance protects your personal property, provides liability coverage if someone is injured in your unit, and covers the cost of any customizations to your unit.
Technically, you do not need insurance if you are not taking out a mortgage to buy a condo in Edmonton. But it is prudent to have it nonetheless. That way, you're covered against unforeseen losses and you'll protect your investments as well as future earnings.
But, What About the Condo Corporation's Insurance?
You might be wondering what's the point of getting separate insurance for your residence in Edmonton because you are already paying a periodic maintenance fee to the condo association which includes insurance charges.
Your condo association in Edmonton will most likely have a master insurance policy that protects the bare bones of the building. It will also cover the common areas including amenities like the gym, swimming pool, etc. But, it won't cover your personal belongings, furnishings, appliances, etc that are inside your condo unit.
Of late, depending on the property type, some new listings of condos for sale in Edmonton have been providing more comprehensive insurance that protects some basic items in the units as well. The list includes carpets, standardized kitchen appliances, internal walls, etc.
You can find out the details of the insurance the association has, and buy your own accordingly to cover the items that are not protected. You can also reach out to our team of experienced real estate professionals, who will be happy to help you.
How Does Condo Insurance Help?
Individual condo insurance helps cover a lot more than just the contents of your new residential unit in Edmonton. Let's take a look at how condo insurance can help you.
Renovations
Many people who move to Edmonton and buy new condos spend a substantial amount of money in making renovations and upgrades to the basic builder model. They personalize their living space by installing furniture, kitchen tops, and appliances of their choice.
The majority of condos for sale in Edmonton do not have master insurance covering these customizations. So if the fancy fridge and the latest dishwasher you installed get damaged in a mishap, it is your insurance that will bail you out.
Protection for Contents
You will most likely be installing furniture and appliances in your new condo in Edmonton. You are also likely to own personal gadgets and jewelry. Individual condo insurance will cover you against the destruction, damage, or loss of any of these belongings.
Some condo insurances also protect your belongings if they are kept in storage or removed from the property temporarily. For example, if you take your laptop on a holiday trip and it gets stolen from your hotel room, such an insurance policy will cover the loss.
Accidental Damages and Expenses
Individual condo insurances will help you bear the expenses in case of major damages caused by water or fire. It will pay for any expenses you incur if you have to move out of the premises while your condo undergoes repairs. This includes hotel tariffs, food bills, condo association fees, etc.
Third-Party Liability
If the plumber or handyman gets injured while carrying out repairs inside your condo unit in Edmonton and decides to sue you for damages, your insurance will help you pay for the lawsuit. It will also help you pay for the injured person's medical bills and cover their loss of earnings.
Moreover, it will cater for any inadvertent damage you might cause to somebody, their property, or their belongings. For instance, if you bump into a neighbour's car by mistake while backing out of your driveway, good insurance will help you pay for the repairs.
Common Elements Loss
Condo associations in Edmonton cover damages and liabilities occurring in the common areas of the property. But, if the bills run too high, they may end up dividing to cost between the condo owners to offset their losses. Your insurance will help you pay your share.
It will also help cover expenses in case you cause any damage to the common property. Say, if your plumbing springs a leak and the water floods your neighbour's house, the association might need you to pay for repairs. You will be glad to have bought insurance at that point.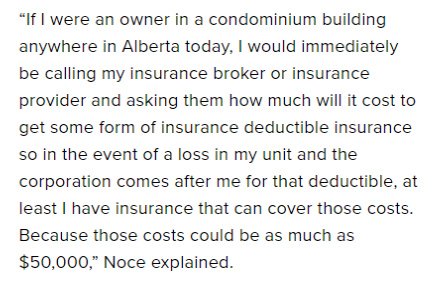 Source: globalnews.ca
Ask the association about the details of their master insurance when you are checking out new Edmonton condos on the market. They can provide you with their insurance paperwork which will help you purchase the appropriate individual coverage.
You can also direct your queries to us. As members of CREA (Canadian Real Estate Association), we will be happy to answer any question regarding new condo purchase in Edmonton.
Types of Condo Insurance in Edmonton
Condo insurances in Edmonton and everywhere else can be divided into a few broad categories depending upon the kind and extent of coverage they offer. Let's take a look.
Comprehensive policy: This kind of condo insurance is the most expensive and provides the broadest range of coverage. It protects your home and all its contents from all kinds of risks, except --

Optional risks: These contingencies are not accounted for in normal condo insurance policies. You need to purchase coverage for such situations at an additional cost. Sewer backup and earthquake damages fall under this category.
Uninsurable risks: This factor comes into play if you are purchasing a condo in a part of Edmonton that is predisposed to any risk. For example, if you buy a new condo in a flood-prone area, you can't claim water damages from flooding.

Basic policy: As the name suggests, this kind of condo insurance covers you against damages sustained due to reasons specifically mentioned in the paperwork. It is also your cheapest insurance option.
Broad policy: This is mid-range condo insurance both in terms of coverage and price. These policies generally provide comprehensive cover for your structural unit and basic coverage for the contents in it.
No frills policy: This is a custom-made policy for condos in Edmonton that do not meet standard insurance criteria. They are offered only by select insurance companies and generally do not apply to new properties.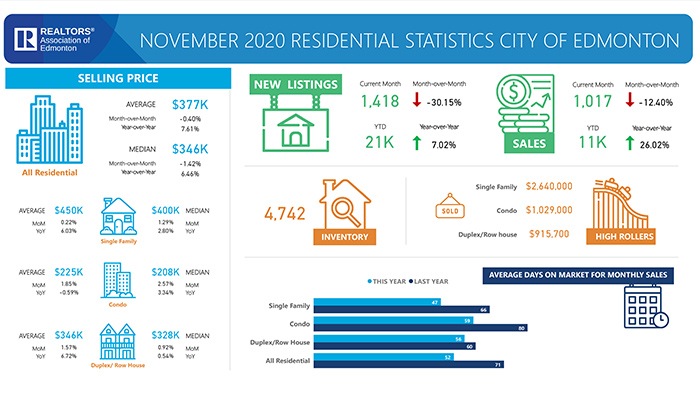 Source: REALTOR®S®ofedmonton.com
According to the latest statistics from the REALTOR®S® Association of Edmonton, condominiums in the area sold for an average price of $230,688 in November 2020. On the other hand, depending on the kind of cover, condo insurances cost between $27 and $33 per month.
This is a small expense to ensure you are protected in case one of the biggest investments of your life -- a condo in Edmonton -- is subject to any unforeseen mishap.
Why Choose Us
Purchasing a new condo in Edmonton and the adequate insurance coverage involves a lot of major decisions. Even the brightest of minds need help with the process, which is why we are here.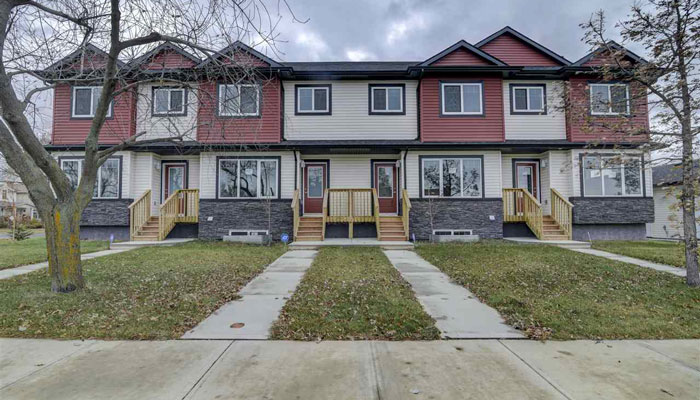 Source: Central Edmonton Condos
We can help you:
Navigate through the mountains of paperwork involving complex legalese, mortgage rules, insurance details, etc.
Find your dream home faster, thanks to our up-to-date knowledge of the Edmonton real estate market and a multiple listing service (MLS®).
Decide on a budget for your insurance and the type of cover to purchase.
When you choose to work with us, we keep your best interest in mind. We provide you with guaranteed accurate listings, help you find a good condo in Edmonton, and assist you till the finalization of the purchase.