Canadian Home Ownership Rates from 2016 to 2022
Posted by Gerard Hagan on Friday, February 18, 2022 at 9:05 AM
By Gerard Hagan / February 18, 2022
Comment
Back in 2017, we shared how, for the first time in forty-five years, Canada experienced a fall in home ownership rates in 2016. Today, we'll revisit that news, along with an update to see where things stand in 2022.
Are you put off from home ownership by the ever-increasing real estate prices in Canada these days? When Statistics Canada released the census for 2016, it clearly showed home ownership rates were declining. The rate of home ownership in Canada was lower than it had been for the past ten years. It was also millennials who were suffering the most.
MORE THAN 45 YEARS SINCE A DECLINE LIKE THIS
The Census 2016 records indicated how home ownership rates across the country were falling.
Across Canada, the home ownership rate stood at 67.8%. Compared to the 2011 Census, this was a 1.73% drop. If you look at the figures over the longer term, you'll see that compared to the
Census of 2006, the decrease was 0.86%. In 2016, home ownership rates were lower than they were in 2001 and in forty-five years, the rate has not declined.
(Are you hoping to join the list of Edmonton homeowners? Read our tips for buying a home in this city here)

THROUGHOUT CANADA, HOME OWNERSHIP GROWTH IN JUST 3 TERRITORIES AND PROVINCES
There was a decrease in home ownership in every territory and province in 2016, except for three territories and provinces.
At the top of the growth list was Quebec, where a 2% increase from the 2011 Census was observed (61.3%). The Northwest Territories came in second, recording a 1.51% increase in home ownership over the 2011 rate (53.7%). The third was Saskatchewan, where a 0.28% increase was observed on the Census 2011, which pushed the home ownership rate to 72%.
(Are you thinking of taking the plunge into the REIT market? Read this first)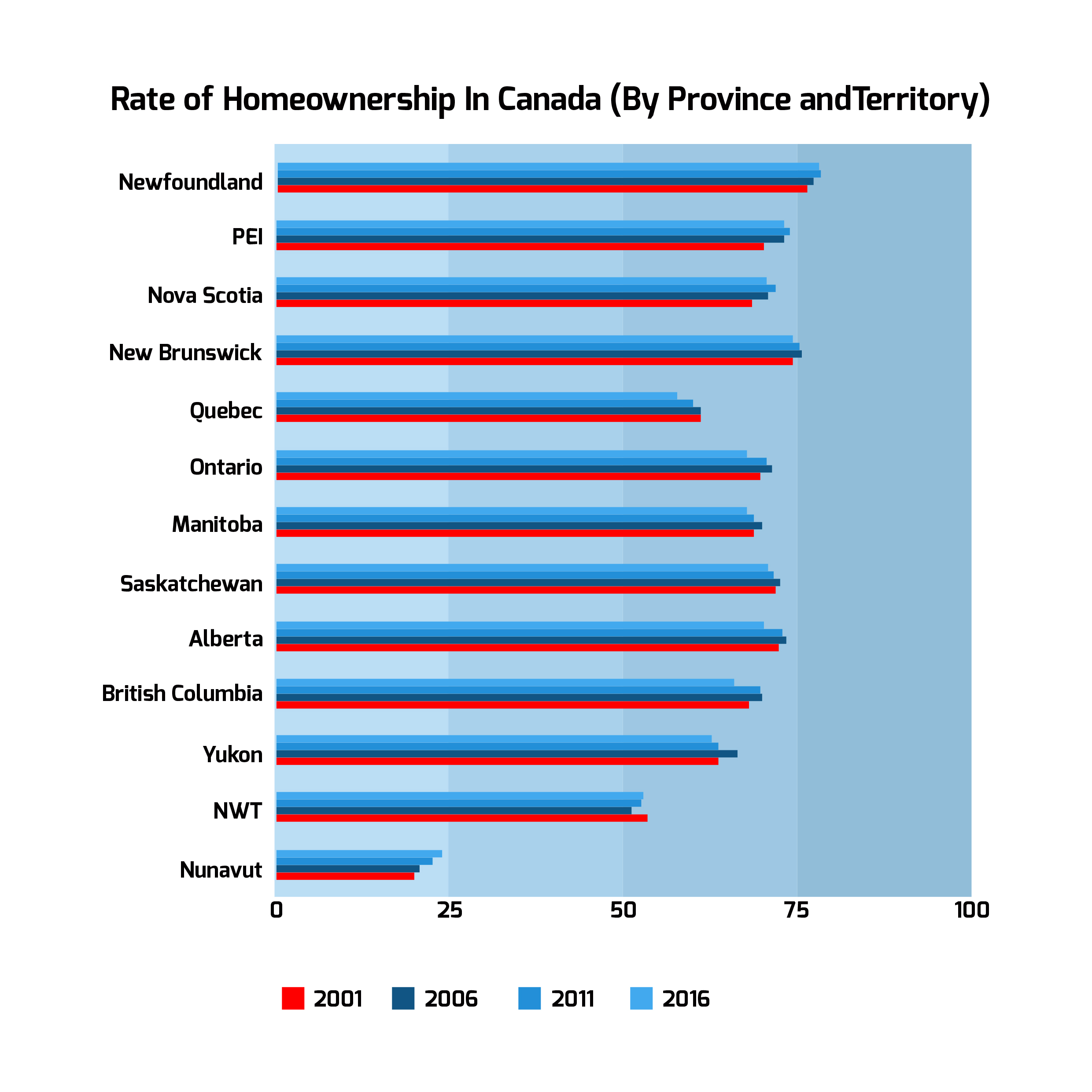 THE WORST SUFFERERS WERE THE MILLENNIALS
In 2016, only a single age group saw a growth in home ownership rates compared to the last Census. This was the 65+ age range that saw a 1.36% growth on the previous Census, now up to 74.6%. The reverse was true for the 20 to 34 age group who experienced the most significant decrease in home ownership. This group saw a decline of 7.82% on the last Census, and the rate fell to 43.6%.
According to Statistics Canada, millennials were leaving their parents' homes much later than before. This does not consider the increase in home prices of 39% over the years and the fact that the median wages increase has been just 5.92% (as of 2016). This must have had an impact on this age group as well.
This was an interesting time to see a decrease in the home ownership statistics. The prices of homes were reaching record highs right across Canada. And in line with this, there was a drop in the number of homeowners. It is possible that these young people were experiencing detachment of income. This would mean, if this trend continued, homeowners in the 55+ bracket could experience a liquidity problem as they are unable to sell their homes.
(Don't miss this post about the mortgage approval process in Edmonton)
But now it's 2022. What's changed? Where do home ownership rates stand today?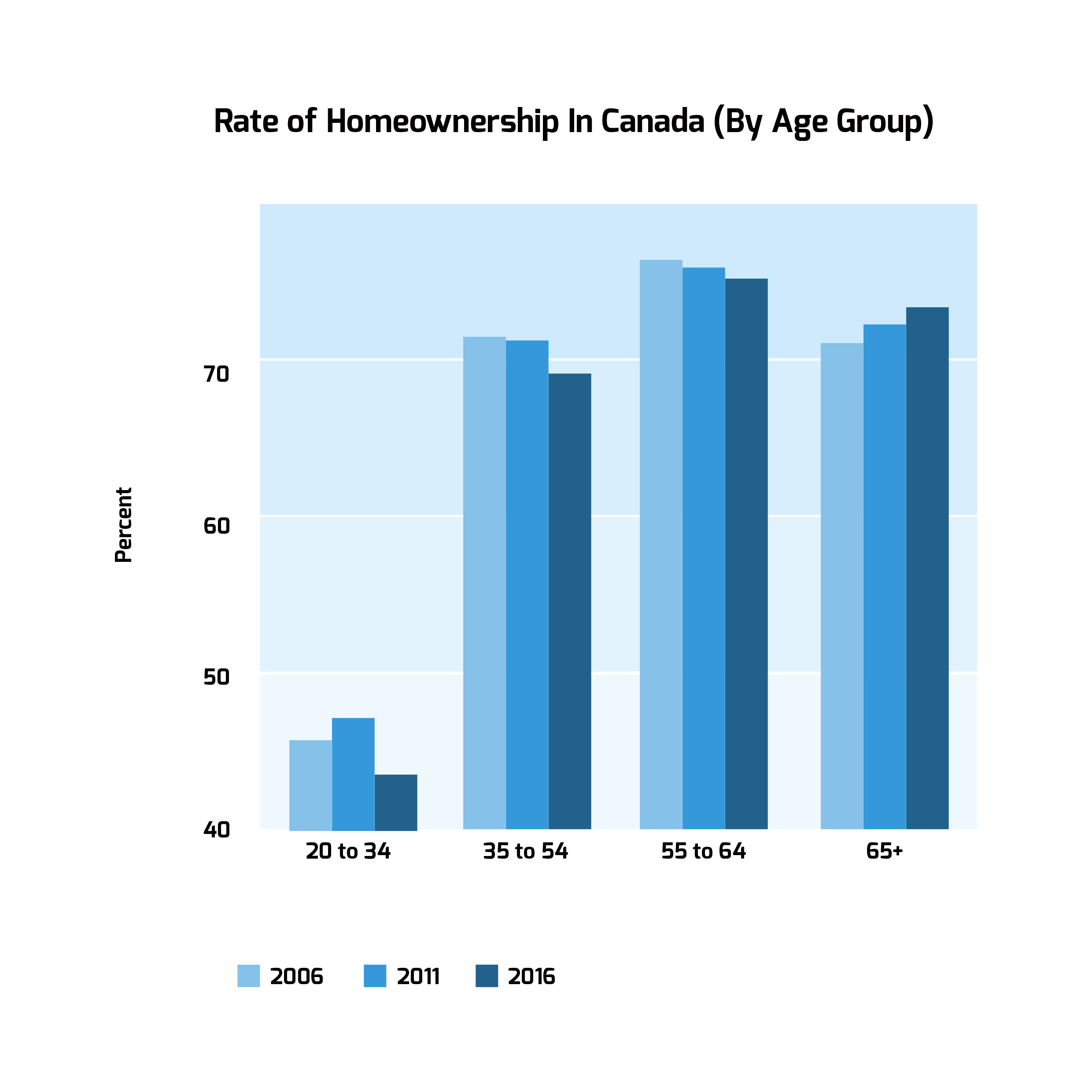 WHERE DO HOME OWNERSHIP RATES STAND IN 2022?
Let's look at what the latest Census data tells us about home ownership in Canada in some of the years since 2016. In 2017, they were 66.20%, and in 2018, we saw an increase to 68.55%.
A lot has changed since 2018, with even more changes specifically since the beginning of 2020. During 2020, home ownership rates continued to decline. In 2020 and 2021, however, they began to pick up again.
As we stand today, at the beginning of 2022, home ownership rates are expected to reach an estimated 70.6% in Canada.
We understand that acquiring real estate seems more challenging than ever, with housing costs on the rise and other barriers that might be in your way. But the Best Edmonton Real Estate team is here to help! Count on our expertise to help you find a home in Edmonton that suits your budget and your lifestyle.
Click here to get in touch with us today.
Did you learn a lot from this post about home ownership rates? Here are three more posts to read next:
This post was first published in 2017, but it was updated in 2022.
Source: Statistics Canada.