5 Reasons Investing In Real Estate Is A Smart Move
Posted by Gerard Hagan on Friday, December 24, 2021 at 9:45 AM
By Gerard Hagan / December 24, 2021
Comment

There are more investment opportunities than ever before. But if you're like most of us, you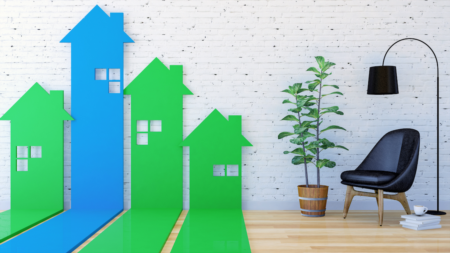 need to pick and choose which opportunities you take advantage of carefully. If one of those opportunities you've been considering is investing in real estate, then this is one post you can't afford to miss! We know how overwhelming it can be to dip your toes into the world of real estate investing or investing in general. By learning as much as you can about the benefits and drawbacks of certain investments, you're giving yourself the best chance of success and a great ROI!
Today, we'll share reasons why investing in real estate is a smart move, as well as how to start.
5 Reasons Investing in Real Estate is the Right Move
Generating cash flow
Not every investment is known for its ability to generate cash flow. Investing in real estate, on the other hand? Once you pay off your mortgage and operating expenses, the net income you receive from this investment is cash flow you can save or invest in other ways!
(It's important to choose your investment properties wisely. Visit this post next for some tips about buying a home in Edmonton)
Tax benefits of investing in real estate
Another big draw when investing in real estate is the tax breaks and deductions it can come with.
When you own a rental property in Canada, you can deduct all kinds of rental expenses from your taxes.
These include:
Advertising
Insurance
Interest and bank charges
Office expenses
Professional fees (includes legal and accounting fees)
Management and administration fees
Repairs and maintenance
Salaries, wages, and benefits (including employer's contributions)
Property taxes
Travel
Utilities
Motor vehicle expenses
Other rental expenses
Prepaid expenses
(Source: Government of Canada)
(To get the best return on your investment, it's important to make sure you aren't overpaying for the property to begin with. With that in mind, here's another post you'll want to read next: 3 Signs You are Overpaying for a House)
Building equity and wealth
Investing in real estate doesn't mean you'll build equity and wealth overnight. However, as you pay down the property's mortgage, you'll begin to build equity!
The great thing about equity is that it becomes part of your net worth. That way, you'll have more leverage to continue buying rental properties. Then, you can generate even more cash flow and wealth as your investments grow.
Appreciation
Investing in automobiles? Not the best idea if you're hoping your investment generates a great return. But when it comes to investing in real estate, you'll have the peace of mind of knowing more investments appreciate over time.
Of course, this means it's important to keep an eye on the market when you're buying and selling to ensure you have good timing. (We can help with that!)
But it's not only when it comes to selling your investment properties where you can enjoy the benefits of appreciation.
Because property values and the cost of living also go up, this means you can increase your rental rates from time to time. That way, you're also increasing the cash flow you get from these properties at the same time.
(Considering adding concrete countertops to your investment property? Find out if they're worth it here)
Diversifying your portfolio
Let's turn to Investopedia to explain this next reason to consider investing in real estate:
"Real estate has a low—and in some cases negative—correlation with other major asset classes. This means the addition of real estate to a portfolio of diversified assets can lower portfolio volatility and provide a higher return per unit of risk."

Did you learn a lot about investing in real estate in this post? Here are three more posts to read next: