10 Budget-Friendly Home Improvements to Try Today
Posted by Gerard Hagan on Friday, December 17, 2021 at 8:48 AM
By Gerard Hagan / December 17, 2021
Comment
Looking for ways to improve your home without breaking the bank? Whether you're getting ready to sell your home or want to give your home a fresh new look for your own enjoyment, we've got ten simple ideas for home improvements on a budget to get you started!
Keep this in Mind When it Comes to Home Improvements on a Budget
The best way to improve home values on a budget is to do what needs doing–and nothing more. Why buy a new ceiling fan when replacing the blades will do? Why paint the entire interior of your home when a feature wall works just fine. This approach allows you to make several small improvements instead of taking several larger projects.
In short: Know your buyers. Choose projects carefully. Know when to quit.
The actual cost and payback for each project can vary, depending on both your home's condition and the overall real estate market. But here are ten ideas that can make your home look and feel that much better!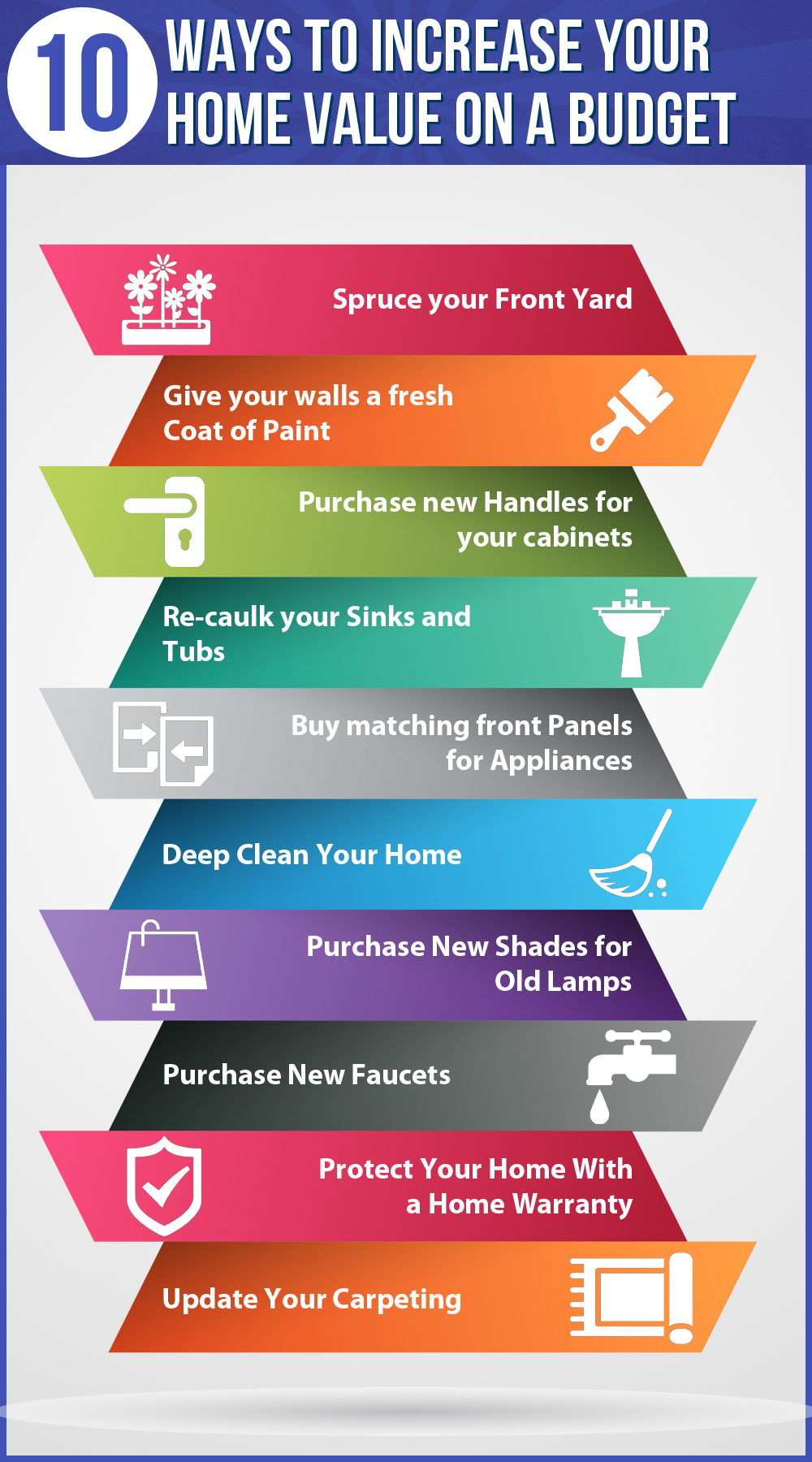 10 Home Improvements on a Budget
Spruce up your yard
Your yard is often the first impression people (including prospective buyers) get of your home. Spruce up your yard to make sure it's a good one! This includes staying on top of picking weeds, mowing your lawn, and removing any debris or unsightly additions.
Give your walls a fresh coat of paint
Talk about an instant facelift! The power of a fresh coat of paint is enough to make your home look dramatically better, which makes it one of the most popular home improvements you can make on a budget.
(Are you considering adding a man cave to your home? Find out if it boosts resale value in this post)
Add new handles to your cabinet doors
As simple as it seems, upgrading the hardware on your cabinet doors can make a big impact on the overall look of your home. Even without breaking the bank, you can find elegant options that make your home look thoughtfully and tastefully designed.
Re-caulk your sinks and tubs
It might not be the most exciting of our home improvements on a budget, but re-caulking your sinks and tubs is a step that pays off in spades! Not only does it freshen up the look of your bathroom, but it's also important for preventing the growth of mould and mildew in damp spaces.
Matching front panels for appliances
With matching front panels for your appliances, they can seamlessly blend with the rest of your cabinetry. It's amazing the effect can have on kitchens and laundry rooms. This is also something that offers you a lasting impact that improves the value of your home for years to come.
Deep clean
This option doesn't technically require adding anything to your home, but it could mean taking some things away. Performing a deep clean and decluttering might not be fun, but it does profoundly affect your home. Your home will instantly look more valuable, and keeping it clean helps preserve its value for years to come.
New shades for old lamps
No need to buy all new lighting for your home! Instead, upgrade your existing lamps with new and improved lampshades that are modern and on-trend.
(Are you looking for ways to upgrade your home's efficiency along with its value? Here are some tips for doing just that)
Upgrade your faucets
Those leaky, outdated faucets that came with your home are dragging your property down! Consider upgrading the faucets in your kitchen and/or bathrooms for your next home improvement on a budget task.
Protect your home with warranties
A home warranty can offer you some financial coverage for repairs in your home. That way, if issues arise over time, you aren't left covering all of the repair costs on your own. Often, this means the difference between letting things sit broken in your home or improving them right away.
(Rather than performing these home improvements on a budget, you might be considering a full-blown remodel. But before you take this step, find out whether these upgrades add resale value or not in this post)
Upgrade your carpeting
It's time to upgrade from that old dingy carpet to a modern, luxurious option! If you're working with a tight budget, consider starting with one room and saving for different rooms to complete over time. Bonus: new carpet can be a great incentive for prospective home buyers to choose your property!
Did you enjoy reading about making these home improvements on a budget? Here are three more posts to read next:
Concrete Countertops: Are they worth the investment?
How to Turn a House into a Rental Property: Ask These Questions First
3 Signs You are Overpaying for a House
This post was first published in 2016, but it was updated in 2021 just for you.